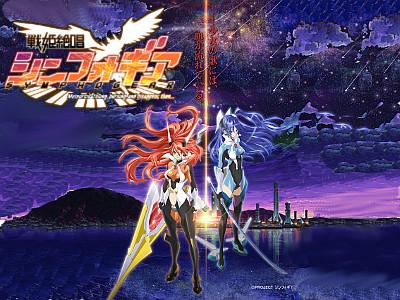 Title: Sehime Zesshou Symphogear
Genres: Action, Seinen, Fantasy
Age Rating: 16+ Older Teen
Status: Ongoing
Summary: (animeseason.com) Since the dawn of time, humanity has been threatened by the disaster called "Noise". When it occurs, people die, and there are no countermeasures. Except one... The top-secret Symphogear System, capable of eliminating Noise, has been deployed in Japan. Unknown to the general public, a pair of girls wielding Symphogears strive relentless to protect society from the ravages of Noise. It would surprise people even more to know that their protectors are none other than chart-topping singing duo "Zwei Wing", Amou Kanade and Kazanari Tsubasa. Tachibana Hibiki and Kohinata Miku are two normal girls just enrolling in Lydian Private Music Academy. There, they meet Kanade and Tsubasa and become involved in the struggle against Noise.
I'd say, this anime is different because well, I don't normally watch things like this. I just don't know what to say or expect from this anime. I don't want to negative first so I'll talk positive first! The beginning of the anime just pulled me in. It was so sad and depressing that I just had to keep watching. The story is actually really interesting. It is dark, happy and musical at the same time. I enjoyed watching this anime.
The beginning was a bit confusing because they kept going from the past to the present. It was confusing but I worked it out in my head. Other than that, the story is just amazing.
It is really cool how they incorporated music and the transformations they had. Its not like the typical magical girl transformation but a mecha like transformation. That is pretty intriguing and interesting.
The art is soo cool, beautiful and intriguing!
Arigatou~!!