*Sigh* I just finished all of the days that was needed for my manga challenge! I also finished work so I'm sorry if some things don't make sense. Also, I am catching a cold! (NOO!) *Cough* *Cough* I can hardly speak!
Anyways, I have missed a whole week of blogging last week so I just want to pile all of my
excuses/
adventures in this post. I have lots of pictures and information I will share with you today. If you just want the manga recomendations, I will put them throughout this post because I am extremely lazy to put them in another post. (Man, this post is going to be the longest I have ever written!)
I'm feeling a fever at this point..........on with this post!
Ok, where do I start? Oh, yes, the friends. On Friday August 3rd, I got to see my best friend for the first time since last Christmas. Her name is Estelle (blog name!) and she has quite of blogs. I started blogging before she has and she is doing quite well! :) You can help her out by checking out her blog! She does alot of music recommendations on the one blog.......I can't remember.
I want my pillow......I need sleep!
This blog:
http://kiritsuko.blogspot.ca/
or this blog!
http://echo-in-the-wind.blogspot.ca/
. Whatever seems appealing to you, go ahead and read them!
Anyways, I got to spend three days and two nights (not long enough!) with her. I missed Estelle soooo much! I'm not kidding. It makes my day whenever she emails me. At times, I feel extremely bad because she ALWAYS gets/sends me a whole bunch of manga's and she doesn't want any payment! Thanks to her, my manga collection has grown ALOT since last year.
When I saw Estelle waiting with her Nannie and Grandpa, I was like, "She hasn't changed a bit!". Estelle showed me around her Residence which was extremely cool. She was living on her own for one month? I maybe wrong. If I'm wrong, she'll comment or send me an email! :)
Here are some pictures of food that I ate and stuff I bought while I stayed at her Nannies house! The first night, Grandpa (I just call Estelles grandpa that, I don't have one) treated us to Vietnamese food. At first, I was hestitant but I ended up loving the food. I order this teriyaki meet with vegetables. It was amazing! My tummy was extremely satisfied. The food was delicious~!!
On the first night, me and Estelle talked up a storm until 3 am. We just didn't talk but I successfully got her into the Korean Drama,
You're Beautiful
. We watched three episdoes? I can't remember. It was like a week ago!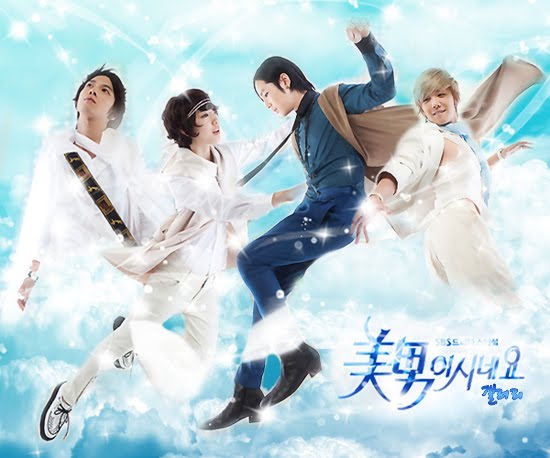 The next morning, we woke up at around 9:30 am. Nannie drove us over to Starbucks for breakfast. Man, I felt like I was being spoiled! Estelle bought me breakfast (DARN YOU! I owe you now!) and we talked with Nannies friend for a bit. My drink is on the left (Hot chocolate-yum!) and Estelles drink is on the right. I forgot what the drink was called...... :)
After about an hour or so, Nannie set us loose at in Chapters. You see, the Starbucks we went to was attached to Chapters. I was getting books for my other best friend because her birthday was on August 9th. I felt bad for not getting her anything last year so I made sure I got her something amazing. Same for Estelle, I didn't get the time to send her birthday persent to her so I got payed for one of her books.
Doesn't the art look amazing??? Plus, theres hot guys!
There were many manga books there! I was contemplating on what books to get! I had the manga
Sakurahime Kaden
vol 3 and 4 for my best friend's birthday and Estelles Samurai book...........I needed to get myself a book! I ended up getting vol 2 (no volume one!) of the manga, "
The Betrayal Knows My Name
" aka, "
Uraboku
" in Japanese.
After our adventure at the bookstore (I love the bookstore), me and Estelle went to a Heritage Festival that was happening. It was extremely cool! It was like traveling the world in three hours! We went to this Indian stand where people were getting Henna's which are just temporary tattoo's. Estelle told me that the black Henna's can cause cancer so we both got brown ones instead.
Alright. Me and Estelle went to the Taiwanese stand where we both got extremely cool umbrella's. I also got this awesome Pikachu hat! I know I'm such a kid but hey, it was awesome and I couldn't resist its cuteness...... :D
I'm the Blue Umbrella on the left! Cool huh? :D
The cool thing about this Heritage Festival was I got to see dances! For the first time I got to see traditional Filipino dancing. It was really neat! I got to experience my culture!
After a while, me and Estelle found the Japan stand! It was sooo cool!
Me and Estelle got bookmarks with our Japanese name! :)
After that amazing adventure, we went home. We took the bus and it was really cool! I haven't been on the bus for a while! I live in a town so don't judge me!
Anyways, Nannie took us to the store to buy food for dinner. I ended up getting Pocky there.
For dinner, we had amazing hamburgers! We ate outside where it looked pretty bad because there was a storm coming! The lightning was scary....
It got pretty bad after everyone was done so we all went inside to eat desert. It was amazing!! I love you Nannie!
Here are some manga's if you are craving some! :) Time to take a break from reading my life story and take the time to read my manga recommendations!
Author: Kawai Yuumi and (Art) Sakano Keiko
Genres: Gender Bender, Comedy, Romance, Drama, Fantasy, Shojo, Adventure
Reading Direction: Right to Left
Age Rating: 13+ Teen
Status: Ongoing
Summary: From Sound of Jewels:
At a time when the world was still at peace, to the east of the capital, a beautiful dancer of Noh named Hakubi appeared. She was keeping a terrible secret that she couldn't tell anybody...
Manga boys with long hair= hotness! :D
Title: Life x 01
Author: Kabosu
Genres: Shojo, Fantasy, Comedy
Reading Direction: Right to Left
Age Rating: 13+ Teen
Status: Ongoing
Summary: (mangafox.com) You're pretty much dead already.
By the time you realize it, you'll be at the edge of the afterlife!
Contending for a chance at revival, a thrilling buddy action story!
This manga is utterly interesting! It is marked as "new" on mangafox.com so I can't wait for new chapters to come out! The art isn't so bad!
Ok, back to my life story again! If these manga recommendations didn't satisfy your cravings, there is still more to come!
As for the Cat portion of my post, I temporarily had a cat. It was interesting. I met this cat on Thursday August 2nd before I went on my Adventure with Estelle. I looked outside of my house one afternoon, I heard a meowing noise. I'm pretty sure I wrote about this before but whatever.
On the way to the camp, we finally came up with the name for the cat. We named him "Lucky" because he/she has to be lucky that we found him/her in our yard. That cat would have been a goner! But it ended up dead anyways.......its so depressing! I cried...........we only knew the cat for.......four days? It was such a young kitten! He/she was pitiful.........
Anyways, sorry for the depressing news. I'll talk about camping! Camping was so bad. As I've said, I enjoyed meeting people and napping. My Pikachu hat attracted people! Ok, time for my last manga recommendations!
Title: Immortal Regis, 불멸의 레지스
Author: Ga On-Bi and (Art) Juder
Genres: Shonen, Seinen, Comedy, Romance, Action, Adventure, Fantasy
Reading Direction: Left to Right
Age Rating: 16+ Older Teen
Status: Completed
Summary: (mangafox.com) One day, suddenly... a night where the moon shines like never before, a boy meets the otherworldly Serin, a denizen of Chaos, only to be killed and then resurrected. Being an Undead, he can no longer exist with humans due to an ancient law of Chaos. Now he must journey to Chaos to learn of a way to return home and save his brother--who is dying of a rare disease.
The art is AMAZING! I love it to pieces! Just look at it! WOW! There's a sequel to this manga if you have already finished. It's called, "Cavalier of the Abyss". I haven't read it yet since I'm still finishing this manga. The stroyline is downright amazing! Though it kinda reminds me of the manga/anime
Busou Renkin
. Anyways, it still has it's differences and I enjoyed it so much! I fell in love with the art right away! The action scenes are pretty dark and cool. Shonen lovers out there, this manga is for you!
Arigatou~!!