I really love Aya Shouoto!! I really love the art of this Mangaka! She makes the guys look hot~!! Her stories are very interesting and amazing! My favorite is Stray love hearts! All the guys are soo.........hot! I have been waiting for a new chapter for this manga online. Why does it take soo long??? Its so annoying!
Title: Barajou no kiss, Kiss of Rose Princess
Author: Aya Shouoto
Genres: Comedy, Romance, School life, Shojo
Reading Direction: Right to Left
Age Rating: 13+ Teen
Status: Ongoing
Summary: Anis Yamamoto owns a choker that was given to her by her father. She is not allowed to remove it or she will be punished. One day a mysterious black creature comes along and hit her and caused her choker to come off. Fearing of what her father will do to her, she sets out to look for the creature. But the creature spat out a red card. When she was about to capture it, she falls into a mysterious pit. There she sees a big monster and her science teacher, Itsushi who is injured. He catches sight of her and the card and tells her to kiss it. When she kisses it, it summoned her "rival" Kaede who tells her that he is a Rhode Knight. He then attacks the big creature and it transforms back to the mysterious black creature. Itsushi explains to Anis that the black creature was the guardian of the cards. He also gives her 4 different cards which are the other Rhode Knights. These Rhode Knights are from her school: Tenjou, Asagi, Kaede and Mutsuki. After this she becomes the Dominion and can summon any of the 4 rose knights. Was this a blessing or her punishment?
Title: SLH, Stray Love Hearts!
Author: Aya Shouoto
Genres: Shojo, Romance, School life, Drama, Comedy
Age rating: 13+ Teen
Status: Ongoing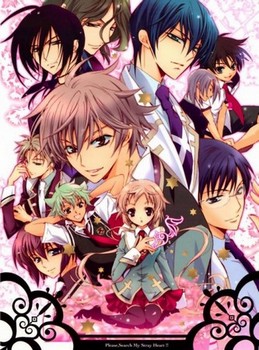 Summary: On the eve of her sixteenth birthday, Kozue Hiyoki is visited in her dreams by a mysterious guy and literally steals her heart. Determined to find him and take her heart back but the only problem is that she only knows the color of his hair and that he has a tattoo on his chest. Her clues lead her to enrolling to a school called St. Nazareth Academy and she stays in the S-hall dormitories. But she now realizes that she has the ability to look into her roomates dreams, this way she can find the man who stole her heart! Her only problem is that all the residents are all guys and won't even let her into their rooms! Much less their hearts!
The art is totally amazing! I can't just help to stare at the art especially the guys (I'm just that awesome like that) for minutes and attempting to draw the characters but I fail but adapting to a style is hard you know?
Arigatou!!!!