I'm. In. Love!!!! I'm a fanatic for Boy bands.....because for one, Boy bands are pretty awesome (I like girl bands too!) and two, some Boy band singers are sooooo hot!!! (Melts) Oh! You know who are the most hottest Boy band singers are???? (This is what I think, don't argue with me!)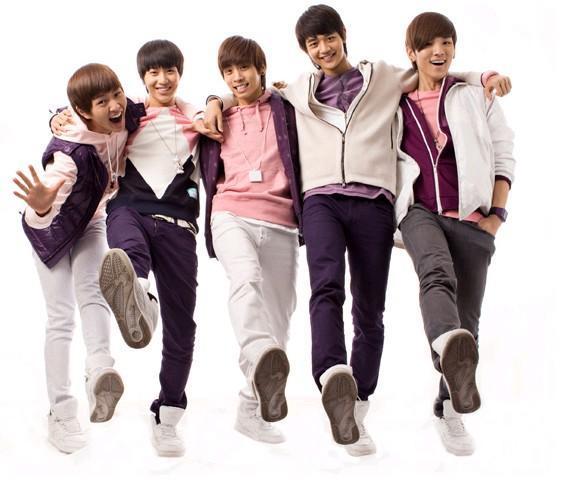 Korean Boy singers!!!!! When I look at them.........hehe......I get totally mesmerized!! I know, I need to get a life but hey, what's a girl gotta to do? I'm pretty tomboyish. But I still love to look at hot guys. (As you can tell) :D
Now down to the point. Korean boys are utterly h-o-t. Trust me. If you don't think so, thats what you think. I respect what you think just don't go arguing with me! If only guys like that came to Canada......sigh......
I have to tell you guys about Shinee!! Shinee is a Korean boy band. There are 1,2,3......5 members in the band!
Lee Jiniki (Stage Name: Onew)
Born on December 14, 1989 in Gwangmyeong, Gyeonggi. (Whoa....the 14th?....Its close to my birthday!!! By like one day!!) Of course he is the leader of Shinee. Onew is the main vocalist and the eldest member.
Kim Jonghyun
I think I love Jonghyun Oppa the best.......he is sooo hot!! KYAH!!! > o < Jonghyun Oppa was born on April 8, 1990 and was raised in Seoul. He is the lead vocalist.
Kim Kibum (Stage Name: Key)
Key is one of the main rappers and main vocalist of Shinee. He was born on September 23, 1991 and was raised in Daegu.
Choi Minho
Minho is the main Rapper and vocalist of the group. He was born on December 9, 1991 and was raised in Incheon.
Lee Taemin
Taemin Oppa is the youngest member of the Korean boy band, Shinee. He was born on July 18th, 1993 and raised in Seoul. He is the lead dancer and vocalist.
Just to tell you, Shinee is pronounced "Shiny". Shinee debuted on May 23rd, 2008 with their single, Noona Neomu Yeppeo (Replay)" ("
누난 너무 예뻐
(Replay)", "
Older Girl, You're So Pretty
(Replay)"). Since then, Shinee has been winning numerous awards, starred in their own reality shows and held a concert tour.
Replay by Shinee

You have to try to listen to their songs!! I love how they dance! Its so cool!! When they sang Lucifer....that was pretty cool. I was introduced to Shinee when I was listening to some of Super Junior's songs. I came across RingDingDong and Lucifer. It eventually led me to the song Hello. I really love this one.......the rythmn......I just love it!!! I think its my favorite from them!
Hello by Shinee
Guess what?!??!? Today happens to be Lee Taemin (
이태민)
Oppa's birthday!!! He just turned 18!!! YAHH!!! I would love to wish him a Happy Birthday!!! I love you!!! I loooove the way you dance!! :D
RingDingDong by Shinee

Lucifer by Shinee


Arigatou~!!