To my awesome viewers this is my favorite gender bender ever! The story is average but the art is to die for!!!!!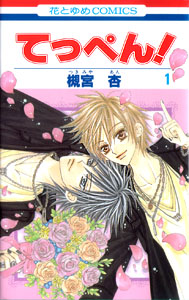 Title: Teppen
Author: Tsukimiya An
Genres: Gender Bender, Romance, Comedy, Drama
Age Rating: 13+ Teen
Status: Completed
Summary: Uehara Kobato is searching for her long lost older brother in Japan after her mother told her about him before her death. Kobato's brother works in the TV business. One day she bumps into an Idol named Shinjou Takeru. He mistakens her for a guy who is auditioning to be an Idol (something like that). She goes with it and actually passes. Is this one way to find her older brother?
I love this manga!! I think its adorable and awesome! The art is soooooo amazing (I think I just fell in love with another mangaka!) and the guys are so hot~! I'm sorry I just have to say that! The storyline is very interesting. I know it may be a little predictable but hey, I still think its a great story.
Arigatou~!!!