GAH! I'm running behind!!! I'm sorry! I'll get to the challenge right now!! > x <
Ok, my favorite theme is probably the school life with a touch of fantasy. Actually, I don't have a favorite theme! I usually only read school life but I don't see any yaoi's that have to do with fantasy half the time. Love Pistols is pretty funny and Seito Kaichou ni Chuukoku is a very interesting school life yaoi. I just don't know, I love all kinds of themes! I really go for yaoi's that actually have a storyline. When I'm bored, I'll even have the liberty to watch an anime with none or with a storyline.
Title: Love Pistols, Sex Pistols
Author: Tarako Kotobuki
Genres: Romance, Comedy, Fantasy, Drama
Reading Direction: Right to Left
Age Rating: Mature
Status: Manga Ongoing and Anime Completed
Summary: (mangago.com) People are starting to act very odd around Norio. This average, normal boy is suddenly getting a lot of unwanted romantic attention and he can't figure out why! A broken leg and a fall down the stairs into the arms of a handsome stranger set off the beginnings of an explanation, and it is one Norio never could have possibly imagined. Soon a whole new world opens up for Norio, revealing a secret society of special people evolved from animals other than monkeys. This society has a complex structure and its members are ranked by rarity and desirability, and it turns out that Norio is a particularly rare breed and his DNA is in much demand! How will he survive in this modern jungle where he's suddenly the prey?
I love this manga!! It took me a while to find the manga after I watched the OVA but I eventually found it. I'm so in love with it! > x < The storyline is so amazing! The art is ok but not overly bad. I've seen worse.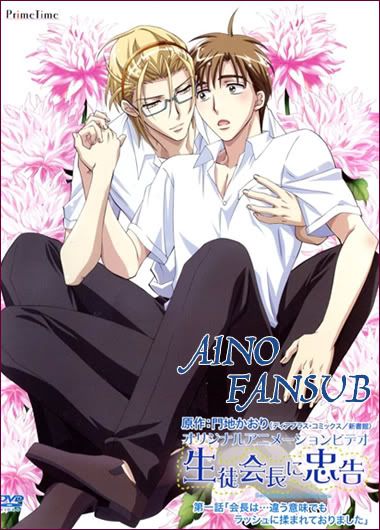 Title: Seito Kaichou ni Chuukoku, Hey Class President!
Author: Monchi Kaori
Genres: Romance, Comedy, Drama,
Reading Direction: Right to Left
Age Rating: Mature
Status: Completed
Summary: (animea.net) Even as he tries to keep the student council president - who flaunts his powerful, man-seducing charm - out of trouble, Vice President Chiga-kun finds himself being drawn to the president's strength and power. Chiga-kun wonders how he, being such an intelligent individual, can be so unwillingly taken with a boy who is so country and simple... But watch out, because the president has a temper!
I can't stop laughing.......this manga is outrageous! There is something about this manga/anime that makes me love it. I think its the "H" scenes and the uke makes me love it so much. It makes me laugh! Oh, the art is adorable! :D
Arigatou~!!